Lately I haven't been sleeping well. I have been up too late at night, sometimes waking during the night, and end up being rather bleary eyed the next morning. I have been nervous, restless and more than a little bit distracted. I am supposed to be focusing on health this month and part of that is Cleansing my Mind. My state of restlessness is not a permanent or serious condition, but it does have a cause.
It's all this guy's fault. This is Clive Cussler, author of at least 46 of the best Adventure/History books that I have read. This guy is totally responsible for keeping me awake at night!
You see my husband commutes to his job. It's a long commute, and I check out audio CD's for him to listen to on his drive each week. However, besides the usual classics, there are very few pieces of contemporary literature that we like. Most of them have bad language, poor morals, unnecessary sex, violence or are just plain stupid. You wouldn't think it could be so hard to find a good book these days. But it is.
Until we discovered Clive Cussler. It all began with these two CD's,
The Lost City and The Chase.
We loved them. I began to loose sleep. Then I went back to the library and got
The Thief, Arctic Drift, and The Storm.
My eyes began to have dark circles under them. I began to be jumpy, restless, distracted. I couldn't wait to get back to the library to get
MORE.
Then I drove all the way around town to a bigger library, that had
MORE
Clive Cussler, and I greedily checked out
every single one
they had on their shelves. So what's so fascinating?
Clive is a real life sea captain of a NUMA (National Underwater Marine Agency) vessel that has discovered more than 60 sunken ships of historic significance. His books are based on his adventures, and many of them are fascinating recreations of historical fiction. From the San Francisco earthquake of 1906, to the Titanic era, and then to WWII they contain wonderful depictions of real history. If you have seen the hit movie
Sahara, you will want to know that it was based on the book by Clive Cussler.
Who knew?
You know what it's like when you are reading a really great book and you don't want it to end? And you have to make it last because you know there isn't any more, and you will go through with drawl trying to find something else to occupy your mind and time? Well, the good news is that with 46 titles to choose from, there is more, and more, and more!
As a veteran home schooler, with our kids approaching graduation, we seem to be running out of good books to read. If you are new to home schooling, you probably think I am crazy. How can you run out of good books to read? Well, when you have read all the titles on your book list, and all the ones on that book list, and all the ones recommended on this website and that website, you begin to see a lot of overlapping titles. They are mostly classics, very few are written by anyone that is still breathing air! It's been a real joy to discover these wonderful Clive Cussler adventures with no swearing, no sex (that I have run into so far), decent morals, and interesting spin on history!
Our kids have begun loosing sleep as well. They are hooked on Clive Cussler too. Books and CD's are vanishing at a rapid rate only to be discovered hidden under a bed, in the CD player, or on the lap of a happy reader. You know they are good when the kids fight over who gets to read it first. These books are very appropriate for your high school student or advanced middle school students. Pick one up and enjoy!
Linking up today!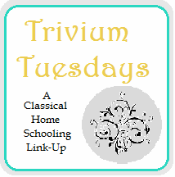 Designer Mom
3 Comments »